May 13, 2022

Check out all of our current classes! So exciting to share our love of crafting.
Click here to register for any of the classes.


---

May 2022

Click here to register now
---

April 2022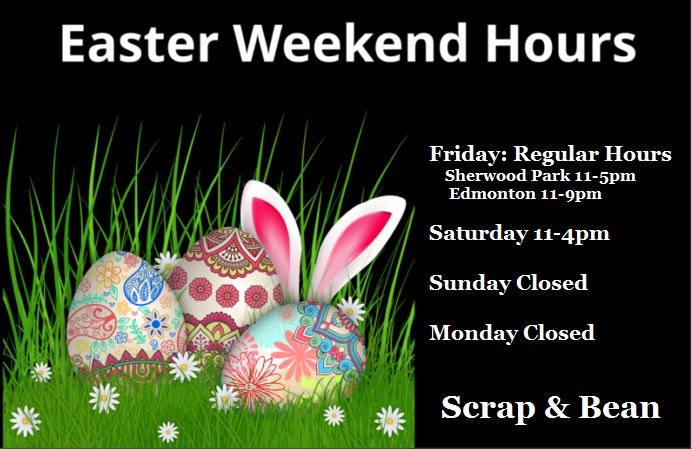 ---

January 2022


---
November 30, 2021
---

8th Annual PJ Crop
3 Day Retreat November 19, 20, & 21, 2021
3 days of crafting in a large, brightly lit auditorium with other creative and friendly women.
We actually craft in our PJ's!
This annual Pajama Crop is a very popular event held at a retreat centre to accommodate the popular demand. Every past event has been sold out, so early registration is recommended.
Everyone gets a full table!
Bedrooms are available for $60 a night. Call Scrap & Bean to book a bedroom for this event. There are also hotels nearby if you prefer that.
This event includes: Full table for every person. Power, internet, coffee, tea, water, and catered meals. Scrapbook store on site.
15% discount on purchases during this event plus the entire week leading up to this event (ask for details in store).
Have fun taking photos with our props and the friends you bring or meet at this event.
This year meals will be individually packaged to avoid buffet style. Any allergies or food requirements should be mentioned when registering for this event. The caterers are quite good about accommodating special requests as long as they are received early.
Register online or at our Edmonton store 780-406-4539.
Registration is non-refundable. If you are not able to attend you may transfer your registration to someone else.
Rooms can be cancelled for a full refund up to 30 days prior to the event.
Space is limited, register soon to avoid disappointment.
Register now:
There are 3 ways you can register:
1. Visit our Edmonton store, register in person.
2. Phone our Edmonton store 780-406-4539
Location:
This 3 Day retreat is at: Providence Renewal Centre, 3005 119 Street, Edmonton. This is a huge complex of buildings on an acreage right in Edmonton, although it feels like we are in the country. Every since these PJ crops outgrew our store space, we moved the event to this same retreat centre because it works out great.
Accomodations:


There are bedrooms available right at this retreat centre for a very reasonable price. These are located upstairs, accessible via elevator or stairs. So no need to put on winter boots, or start your car (bonus!!).
There are 3 bedroom styles available, limited number of each style. Rooms are refundable up to the week prior to the event.
Rooms styles:
Double Suite is 2 beds (1 single, 1 double) also a full bathroom with tub/shower, $60/night based on double occupancy.
OR...
Single Suite is 1 bed (some are double, some are queen) with private bathroom in your suite for $85/night for 1 person.
OR....
Single Room is 1 bed also a sink in the room, using shower and bathroom across the hall for $60/night 1 person.

There are also hotels nearby is you prefer.




Event Hours:



The auditorium used for this event is huge! It is attended by Scrap & Bean staff for the duration of the event, and locked up for the few hours each night that it is not being used.
Here are the crafting hours:
Friday noon - 1am,
Saturday 8am - 1am,
Sunday 8am - 4pm
Join us!
---
July 23, 2021
Christmas In July!
Here is the FREE project we offered in store during our Christmas in July event:
This simple yet elegant card is made using these supplies:
(click any link to shop the product now)
White cardstock
Embossing Folder 3D Winter Snowflake

Gold Glitter Cardstock

Holiday Word Script Die
Gold Gems
Snowflake Chipboard
Gold Embossing Powder
(for on the chipboard snowflake)
Vellum paper
Have fun creating your cards!
---
March 2021
It is our annual event...
Get lucky at Scrap & Bean!
St. Patrick's Day
March 17 - 18, Wednesday & Thursday
We have been busy scattering clovers in both stores. Browse the isles and keep your eyes open for clovers.
Find a 3 leaf clover, bring it to the til with your purchase to get 30% OFF 1 item. *
Find a 4 leaf clover, to get 40% OFF 1 item.*
*Excludes machines, and sale items. 1 discounted item per household.
Here are some hints! Can you find the clovers?
Open extra hours during this sale event:
Sherwood Park:
Wednesday 11 - 6pm
Thursday 11-7pm
Edmonton:
Wednesday 11-6pm
Thursday 11-6pm
---
February 4, 2021
February is the month of valentines. Would you enjoy making some Valentines Day cards for seniors?
December 18, 2020
Woodland Paper Pads and more.
Shop all woodland products here.
Good Old Days 6x6" Paper Pad
Watch this video to see inside the paper pad.
Will you be making some masculine cards this year?
Then here is a great paper pad for those cards.
Click here to buy it now.


---
November 1, 2020
Scrap & Bean Edmonton location is back to our regular (pre-mandemic) closing time of 6pm week nights. Friday open to 9pm.
Huge thank you to all of you crafters who made it a priority to shop small business during these past months. We owe our very existence to all of you who continued to support Scrap & Bean even when we had to adapt and change just to get through these crazy times.


Edmonton Store Hours:
Sunday noon - 3
Monday closed
Tuesday 11-6
Wednesday 11-6
Thursday 11-6
Friday 11-9
Saturday 11-4
---
October 28, 2020
See todays news letter here:
https://conta.cc/34SbfU4
---
August 25, 2020
Try it Tuesday ~ Nuvo Drops
You are invited to get out your Nuvo Drops and play along with me.
---
August 18, 2020
Try It Tuesday ~ Polychromo Pencils
Polychromo Pencils can be purchased in our Edmonton location, or click here.

The pencil sharpener Kathy uses to get the extremely pointed tip can be purchased at both of our location, or click here to buy it now.


Subscribe to our YouTube channel so you never miss a Try It Tuesday video.
Youtube: Scrap & Bean
---
July 1, 2020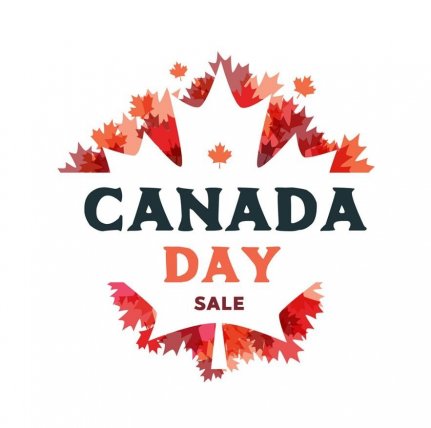 Our annual Canada Day Sale!
25% off every item which has a little RED on the product, or even on the packaging.
Sale Dates:
Sherwood Park location: July 1st 10-6pm
Edmonton location: July 2nd 10-6pm
---
March 22, 2020
****Update***** Both of our stores are once again open for in-store shopping.
Due to the current pandemic, here are the changes made at Scrap & Bean:
Scrap & Bean is changing with the times. Our beautiful papers and other amazing stock is practising self-isolation now, as an extra caution to keep our larger community healthy. You can continue to shop online at
www.ScrapAndBean.com
where all of our products can be seen and purchased.
During the check out option you can choose:
- ship to your door (free over $50)
- curbside pick up Edmonton location
- curbside pick up Sherwood Park location
Curbside pick up is available at these times:
Edmonton location,
13220 St. Albert Trail:
Tuesdays 10-pm
Fridays 3-7pm
Saturday 11-5pm
Sherwood Park location
, #70 Broadway Blvd:
Sundays 12-4pm
Tuesdays 3-6pm
Fridays 10-2pm
On-line payment options continue to be:
Visa, Mastercard, Paypal
Etransfer would need to be special arrangement.
I am wanting to make this new way of shopping work for you, during the current pandemic. So reach out if you need me to get creative with payment transfer methods. Together we will find ways to keep enjoying this hobby we all love.
---
February 15, 2020
What a great card class! In just a couple of hours you will be making 7 beautiful cards. You will now be prepared for birthdays, weddings, anniversaries, sympathy and even a man card.
Click here for more details:
https://www.scrapandbean.com/module/class.htm?classId=362565
---
February 14, 2020
Two new kits added to our large selection of scrapbooking kits. These kits are easy to create with just basic scrapbooking tools. All kits are 2 pages, include materials and embellishemts as well as full instructions with colour pictures.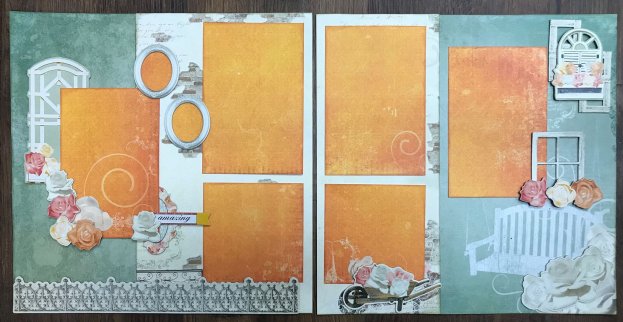 To shop our scrapbook kits click here.
---
February 8, 2020
A shipment of chipboard from Southern Ridge has arrived! We are well stocked in wonderful chipboard again. Plus some brand new designs.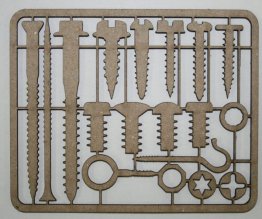 ---
January 23, 2020
Join us in Sherwood Park this Saturday, January 25th between 11am and 4pm. We will be playing with Metallic Gilding Paste. Come see it live, so easy, so shiny!
Scrap & Bean
#70, 130 Broadway Blvd, Sherwood Park
Phone: 780-449-9414
---
January 14, 2020
Shop online at www.ScrapAndBean.com
Then choose which of our locations you would like to pick up at; Edmonton or Sherwood Park.
---
January 11, 2020
25% Off
Your entire purchase*
Brrrrr, the weather got colder,
but the deals just got hotter!
So easy to shop at Scrap & Bean!
All this week! Sale ends January 17th, 2020.
---
January 7th, 2020
Zig Writers are amazing!
One of our talented staff told me about Zig Writers recently. This is THE marker that Kellie uses to journal on her scrapbook pages. I have found that when someone shares about a tool they find great, its worth trying it out. Zig writers were no exception. Over the Christmas break I decided to try out the black Zig Writer, and honestly once I started doodling....well I may have gotten carried away. You can tell I was loving the Zig Writer! These writers have two tips: fine and more of a bullet tip. I used both.
Scrap & Bean now carries the Zig Writer in black, gold and silver too. If you do any writing, journaling, doodling, drawing, you really should try out the Zig Writers.
Click here to shop our Zig Writers now.
Tip: The background of this art journal page was created with Chalk Paints. Click here to shop our chalk paints.
---
December 2019
Be sure to share this message with Santa...
---

December 2019
Both of our stores will be closed the
following dates over the holidays:
Note that Sherwood Park location
is always closed on Mondays.


Our online store is always open.
---
November 29, 2019
20% Off
Your Purchase
Friday, November 29th, in both Edmonton and Sherwood Park stores
Excludes: Events, classes, machines, copic and Stampscape brands

Online purchases: discount will not show on screen, but will be applied when your order is compiled.


October 3, 2019
Feature Projects using beautiful glittery papers from My Minds Eye. This newest Christmas paper is sparkling and available at Scrap & Bean now.
Visit our Sherwood Park location to see the feature project wall in person.